Portfolio Web Development
My Meander
The wonderful husband and wife team Nev and Jodie are the creators of the website/app My Meander. They've developed a fantastic method for preserving their family history on a safe, private platform, allowing them to control who sees each memory they record. A collection of these moments and memories that make up their life stories is pulled together on their personal timeline. It's like having our own autobiography on one page! And they are now offering this service to everyone.
For now, their immediate family is spread across four continents and various time zones. Sharing past and recent moments with them has helped to bring them all a little closer, kept us in touch with family and old friends, and created a collection of beautiful old memories pieced together by all involved.
Request
Nev, himself is a techie nerd guy. So there are so many things they requested for. They first demand that the website's user interface (UI) be appealing and functional. There should be a method via which users must first register before they can upload or edit anything.  Users must select a plan at the time of registration, thus the payment method must be quick and safe. The registration procedure shouldn't take too long. They want their website to be prepared for the future.
Challenges
As this is a website where anyone store and share their personal and private memory so the website has to be secured and able to store as much as the date it can.
As people store their memory in written as well as in photographic form. It is user interface has to be attractive and working. As people can change their theme color and other basic features.
Since users may establish accounts on the website, the registration form and procedure must be simple and safe.
Given that a payment method is offered. Therefore, it must be quick and secure.
The older site's non-responsive platform and outdated.asp system was unable to accommodate My Meander's expanding demands.
To ensure complete operation, the website was completely custom developed and contains hundreds of moving pieces. This bespoke code proved difficult to switch over to another content management system.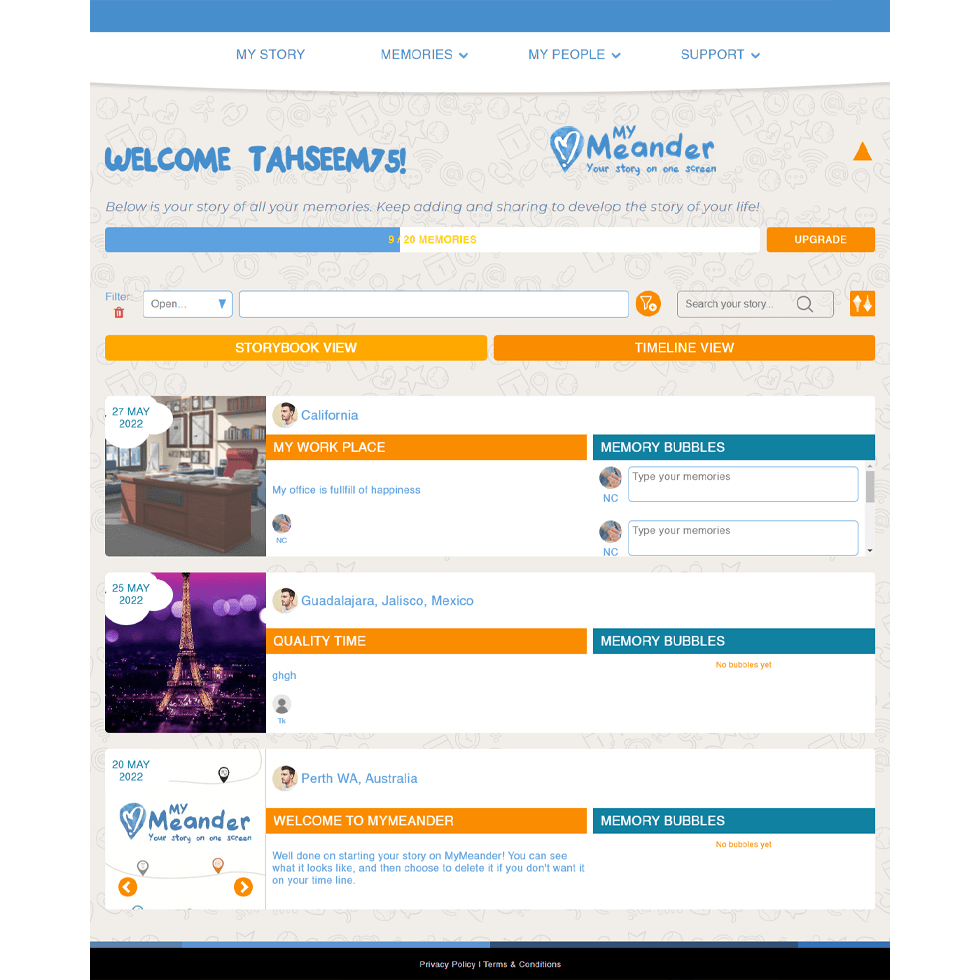 Solution
The new website has a modern, lovely style that complements its theme.
The website's photos and visuals were updated to improve the user experience.
The website is now mobile-friendly, enabling users to visit it from any device and discover a captivating and appealing website that instructs them on how to register and what the advantages of using it are.
The custom coding was put into a module, which made it simple to move across platforms without having to start from scratch each time.
A new, quicker, and more secure payment gate is introduced.
The registering procedure was redone and enhanced from all angles while maintaining the professionalism and standards of My Meander. Everyone has to select the plan and register on the site before uploading the file. And users can change their themes as well as edit or update their stories.
Feedback
Our new website has brought forth a beautiful and engaging website to emphasize they can help the user to share and upload their stories in scrapbook form. Thanks to Delimp. With their custom code, it is easy for users to register. And with the responsiveness of the website, any user can upload and update their stories and photos whether they are at home, or while spending the last weeks of summer with their friends and family.
17236